Kitchen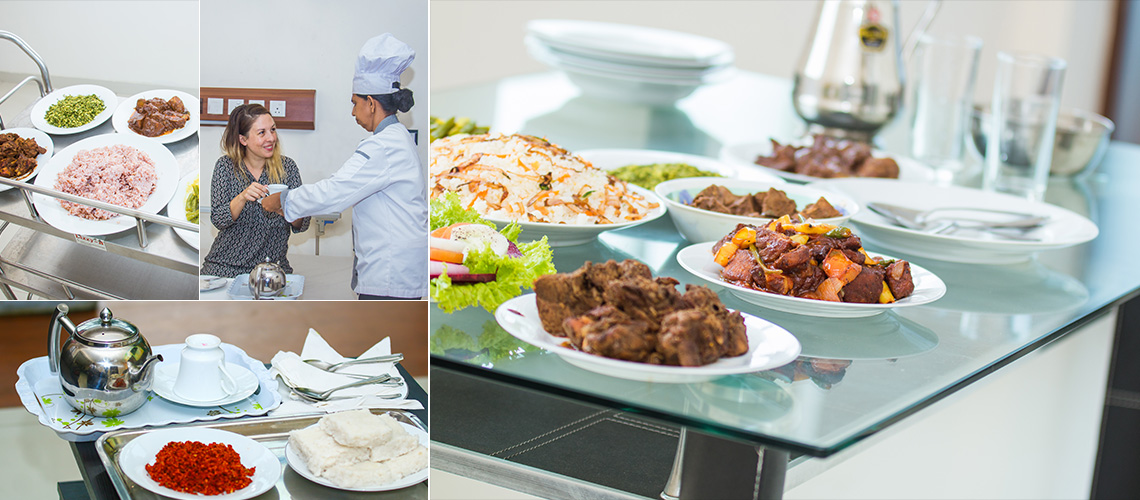 We believe in healthy people and what we eat is an important part of that Nawinna Medicare Hospital provides balanced, nutritious meals for inpatients. We provides several food and dining options for patients and visitors. Nutrition and diet play a vital role in patient treatment and care. We offer our patients a menu of healthy meal choices prepared by highly experienced and trained cooks. Our hospital kitchen is supervised by a the Nawinna medicare management and the nutritionists to ensure excellent standards. Patients receive food from the hospital kitchen and are not strictly prohibited from consuming meals and other edibles from outside or home.
A state of the art kitchen allows many opportunities to provide fresh wholesome ingredients cooked well. Our entire team is here to support our guests with a spirit of welcoming hospitality.Meals are prepared and cooked fresh each day using conventional cooking methods
Strict disciplines are maintained throughout the operation, from receiving raw commodities to despatching completed meals via a plated meal delivery service to the patient's bedside.
The hospital kitchen provides both vegetarian and non-vegetarian meals. Patients must intimate their preference to staff.
To aid the healing process, your doctor may recommend a special diet. The hospital has Dietetics Department which provide their service on request which meets these special needs. Meals and beverages for patients are prepared strictly according to the instructions of their medical consultants where applicable. Individual dietetic requirements of each patient are determined before menus are planned.
Meal Timings
Patients are offered a menu each day with a choice of hot and cold meals
We suggest the following meal times:
| | | |
| --- | --- | --- |
| Breakfast | : | 7 am to 8.30 am |
| Tea / Coffee / Juice | : | 10.30 am |
| Lunch | : | 12.30 pm to 1.30 pm |
| Tea / Coffee / Juice | : | 3.30 pm to 4 pm |
| Dinner | : | 7.30 pm to 8 pm |
Diet Plan
Following are details of your Diet Plan during your stay in hospital.
Check this out